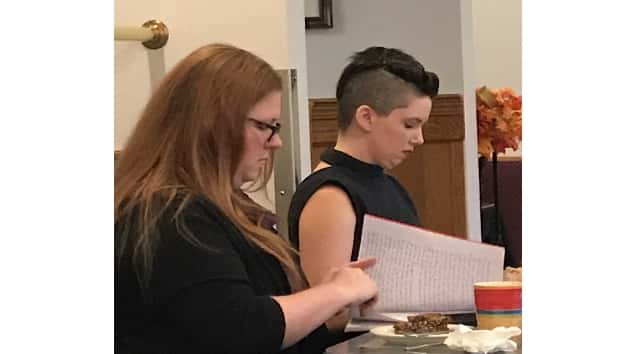 PORT ANGELES – Two candidates for Port Angeles city council agree something needs to be done about a city housing shortage, but differ somewhat on how to handle it.
Navarra Carr and Nina Napiontek spoke to the Port Angeles Business Association yesterday.
When asked about a proposed sales tax hike to pay for housing in the city, Carr says she thinks it is appropriate.
So, I'm one of those folks who is on a tight budget. I'm a one income household and I was the kind of person who couldn't turn on the heat over the winter because the bill was going to be too high. So I understand how important it is that we can't just raise taxes for the sake of raising taxes. However, I also strongly believe that it is our community's responsibility to come together when we see people in crisis and in need and say "hey, there's a housing shortage and a housing crisis." We need to build, you know, hundreds of new homes. How are we going to afford that?
But Napiontek says the city needs to be careful about adding any more taxes.
Families really struggle and you know creating higher taxes for them is putting a big burden on our families who are the backbone of our community. These are working families and we don't we don't want the citizens to feel that they can't afford to live here.
Voters will decide whether to increase the sales tax this fall to raise money for housing issues.
The two also talked about parking, specifically about a proposal brought directly to the city council by councilmember Mike French. The proposals would've done away with parking requirements in the downtown.
Napiontek says she agrees something needs to be done, but the city council needs to follow the process and let the planning commission vet proposals, not just bring them directly to the council.
I believe that this is a discussion we need to have. I also believe in due process. There is a process that as city council we need to take,  and part of that process is handing these issues over to the Planning Commission so that they can vet it out, look into the legalities, look into the zoning. Their opinions and their findings and their facts that they bring to us are invaluable. It is a process and the process can be long and the process can be very frustrating but there is a process.
Carr says she would've supported French's proposal.
Personally, I really applaud councilmember French for bringing that forward in a time where parking is an issue. And I think, that all too often, there's a level of inaction by city council. We're having this discussion, right? We've been having these discussions for months and months if not years. So why isn't anything being done? Right? I mean, it can't have just started going to the Planning Commission. That's I think a little bit naive.
The council defeated the proposal on a 4-3 vote earlier this month.
Naptiontek and Carr are vying for the position currently held by mayor Sissi Bruch. Bruch is not seeking reelection.