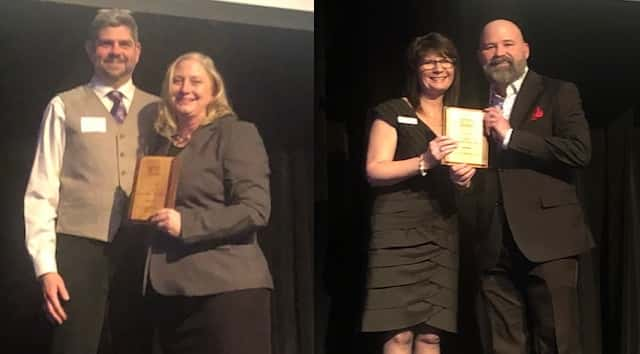 BLYN — The Clallam County Economic Development Corporation held their 2020 Annual Meeting event on Friday, January, at 7 Cedars in Blyn, with the theme of "Celebrating the Year of the Entrepreneur."
The meeting was sponsored by Kitsap Bank, a well-known supporter of small businesses in our county. They also operate the edge3 FUND small business competition for area businesses. The keynote address was presented by David Giuliani, a Seattle-based veteran entrepreneur with strong roots in Silicon Valley and inventor of the Sonicare toothbrush.
The State of the Council was presented by CCEDC Director Brandino Gibson, followed by Sponsor Recognition and remarks from Lisa Brown, Ph.D., Washington State Commerce Director. Dr. Brown also installed the 2020 CCEDC Board of Directors.
The CCEDC's Annual 2020 Awards presentation was a highlight of the evening. Non-Profit of the Year Award went to Peninsula Behavioral Health, presented by Mark Ozias, Clallam County Commissioner. Business of the Year was awarded to Sound Publishing by Christy Rookard, Regional Manager, VP of First Federal. The Olympic Leader Award went to Dorothy Field for her work in support of the Port Angeles Performing Arts Center. Accepting on her behalf was Chris Fidler.
The mission of the Clallam County Economic Development Corporation is to work in collaboration with stakeholders, investors, agencies and other partners to make Clallam County a great place for businesses to thrive and people to live. To learn more, please visit www.clallam.org.