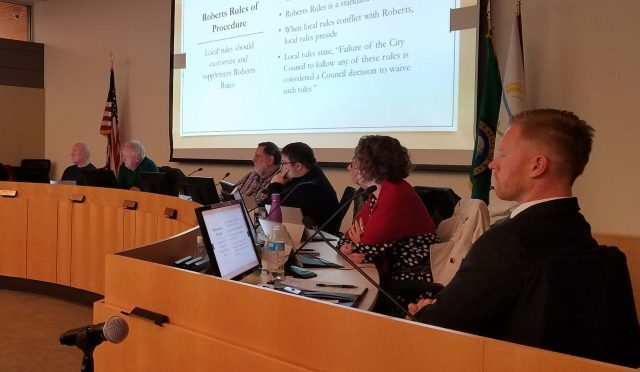 By Pepper Fisher
SEQUIM – Three of the seven Sequim City Councilors currently serving have at least one thing in common. They have all been through a new coaching program presented by former Clallam County Commissioner Jim McEntire and Clallam County Republican Party Board member Donnie Hall.
The two formed the Independent Advisory Association early in 2019, with the help of a few "silent backers", with the intention of enrolling and coaching local citizens who want to run for political office.
"You know,  Jim McEntyre and I do this as the Independent Advisory Association because we're looking for these type of people, and we feel that these type of people are out there in the community wanting to be in local government, but the thresholds are just too high, of knowledge, and that's really why we do this."
In less than a year they successfully mentored Sequim Mayor William Armacost and council members Brandon Janisse and Troy Tenneson onto the Sequim City Council.
"William Armacost was identified to us originally by a third party that said he was somebody who we think really will agree with what you guys believe in, and we wonder if you'd be interested in advising and coaching him. And William introduced us to Troy. Troy was somebody who definitely was looking at public service. He wanted to serve, so we made contact with Troy that way. Brandon is somebody that that we go way, way back with. He's run for the city council several times before, so he was somebody that was a known quantity to us."
Hall was also the campaign manager for Republican Jodi Wilke, who in 2018 lost her bid for State Representative against Mike Chapman but now leads the Save Our Sequim campaign to stop the Jamestown S'Klallam Tribe's plan to build a Medical Assisted Treatment clinic in Sequim.
Hall makes no bones about stating what their agenda is on that front and what they're willing to do to stop the MAT clinic.
"This new City Council is one that is going to risk legal action if they feel that that is what the the Sequim voters want. If the people of Sequim say "absolutely no MAT" and yet somebody is saying "Well, if you deny MAT there'll be legal action", these City Councilors are willing to take that risk of legal action if that's what it takes to follow the will of the people. And that's really what that new mindset is that is coming in with them."
Hall added that he thinks the SOS movement points to a larger issue in the community.
"The MAT thing picked an open sore that nobody really wanted to admit that was there. And that was, the city is being run by the bureaucracy and what I would call the Sequim Valley Elites. The people just, like, didn't have a voice, and finally this group SOS came along and all of a sudden people said, "Here's a voice. Let's get on that bandwagon". And we happened to come along with a handful of candidates that said, "yeah, we're interested in doing what the people are doing, and not so much the special interests", and that's what…that's really why we're at where we're at right now."
Hall says his group is working on getting a website up and running soon but, in the meantime, they can be reached via email at restoreclallam@gmail.com.