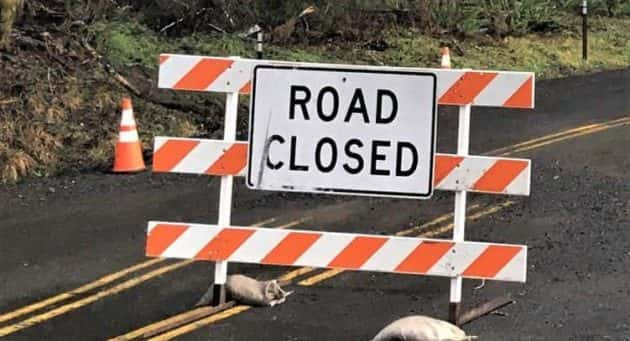 Port Angeles – Olympic National Park, in response to the Stay Home, Stay Safe Proclamations issued by the Governor, is announcing additional modifications to operations to support federal, state, and local efforts to slow the spread of the coronavirus.
As of March 24, Olympic National Park is offering no services outside those that support visitor or resource protection. The following services and operations will be suspended through at least April 6, 2020 in order to comply with the state order:
Most park roads are closed at the park boundary. These temporary closures include Staircase Road; Hurricane Ridge Road; Ozette Road; Mora Road; Upper Hoh Road; Lower and Upper Queets roads; and North Fork and Graves Creek roads in the Quinault Valley.
The Olympic Hot Springs Road and Whiskey Bend Road in the Elwha Valley are closed to vehicles at the Madison Falls parking area due to the washout of Olympic Hot Springs Road.
Sol Duc, Deer Park, Obstruction Point, and Hurricane Hill roads have not opened for the season and remain closed at this time.
All overnight camping, including in wilderness, is currently suspended.
All drive-in park campgrounds are closed including: Staircase, Heart O' the Hills, Ozette, Mora, Hoh, Kalaloch, Queets, North Fork, and Graves Creek. Deer Park, Fairholme, Sol Duc, and South Beach have not opened for the season and remain closed at this time. With this closure, it is important to remember that no other areas in the park are authorized for camping.
To make changes to or cancel existing wilderness permit reservations affected by this closure, please contact the Wilderness Information Center at 360-565-3100 (Option 4) or email Olym_WIC@nps.gov.
All public facilities including visitor centers, contact stations, and restrooms are closed.
Kalaloch Lodge, Creekside Restaurant and The Mercantile closed as of March 23.
Sol Duc Hot Springs Resort, Campground and RV Park have delayed opening until April 24 at the earliest.
Winter operations at Hurricane Ridge ended as of March 17.
The health and safety of our visitors, employees, volunteers, partners, and neighboring communities is our number one priority. The National Park Service (NPS) is working with federal, state, and local authorities to closely monitor COVID-19. We will notify the public when we resume full operations and provide updates on our website and social media channels.
Visitor and resource protection, law enforcement, public health services, and critical infrastructure operations will continue. Olympic National Park relies heavily on volunteer search and rescue organizations to assist in an emergency. During this pandemic, resources and personal protective equipment are limited.
Visitors are encouraged to take advantage of the digital tools already available to explore Olympic National Park. Please continue to enjoy Olympic National Park through the park's webcams. There are many educational resources available to explore on the Olympic National Park webpage to help you stay connected to your national park.
Updates about NPS operations will be posted on www.nps.gov/coronavirus. Please check nps.gov/olym for specific details about park operations.