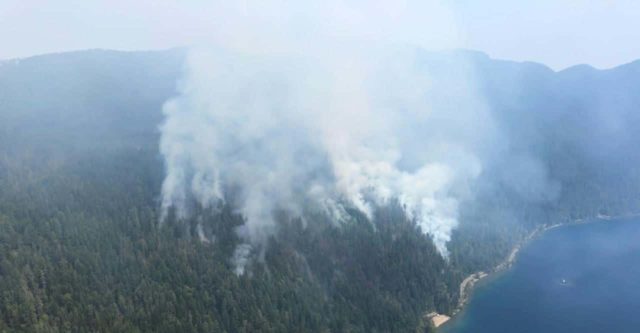 By: Pepper Fisher
OLYMPIC NATIONAL PARK – On this day 3 of the wildfire burning on a steep hillside at the east end of Lake Crescent in Olympic National Park, a news release issued this afternoon says the Western Washington Type 3 Incident Management team  took over command of the firefight as of noon today.
The team is described as multi-agency firefighters from all over Western Washington who specialize in managing wildland fires.
Their plan for today is to work on access at the north end of the fire, working off of old logging roads. Firefighters will continue to arrive throughout the day and start working on securing line around the fire, which had burned 65 acres as of Friday's news release.
Clallam Fire-rescue crews are among those helping to battle the blaze. We asked Fire Chief Jake Patterson to give us an update on how his firefighters are doing so far.
"Yesterday and today, they're being assigned to one of the divisions on the fire and their assisting the Park Service as needed. We have one water tender and one wildland engine out there again today and they are being assigned and used where needed."
We asked him to describe for us the scene and to tell us about the difficulties of fighting this fire in steep terrain.
"Right now it's just burning in timber, slash and brush. Due to the terrain, there's a lot of hazards of falling logs, falling trees, rock. Because of all the burning, it's kicking loose a lot of heavy debris, which could…has the potential to roll down onto East Beach Road. So they're saying in safe areas, they're wearing their proper protective equipment and they're keeping an eye out."
Patterson says wind does not appear to be much of a factor in fighting the blaze today, that he didn't think the area got any of the rain seen overnight in some parts of the county, and that no buildings or homes were in danger at this point.
Because officials believe the fire was human-caused, they're asking for the help of anyone who was in the area on the afternoon of July 29th and noticed human activity that may have contributed to the fire to call or text a tip line at (888)653-0009.
For updated information please visit http://www.nps.gov/olym or call the park's Fire Information Hotline at (360) 565-2986. 
(Olympic National Park photo of East Beach Road fire)