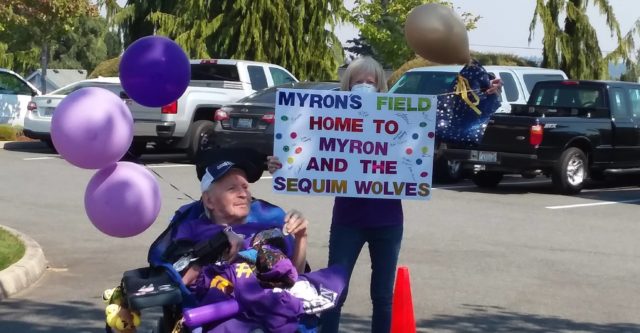 Pepper Fisher
SEQUIM – There's an effort under way to name Sequim High School's football field after a life-long supporter of the school's athletic programs.
The Sequim Schools Alumni Association wants to honor 81-year-old Myron Teterud by convincing the School Board to officially name the facility Myron's Field.
As Alumni member Phyllis Meyer explains, Myron means far more to the people of Sequim than your average sports fan.
"For the last at least 60 years, starting when he was in high school, he goes to every sporting event. Doesn't matter what kind of sport. He'd see somebody that he remembers and 'I remember that day and that football game you played in 10 years ago, and you ran for this many yards and you scored this many points.' And he's that way with with every sport. He helps out at the sporting events when he can. Helping the cheerleaders out. Helping the band out. It's hard to explain Myron. If you don't know Myron, you don't know Sequim."
The Alumni members approached School Superintendent Rob Clark with their idea earlier this year to see if they could get the School Board to approve it. Board President Brandino Gibson told us Superintendent Clark brought the subject up in Tuesday night's Board meeting, but says a current statewide order restricts school boards from making decisions other than those directly related to the education and well-being of its students during the pandemic.
"Well, the superintendent, he told me 'If you could get like 10 or 12 emails who supported this, that would help your cause'. So, okay great. Well, so far I have over a hundred and twenty. Some of the emails I've gotten, I mean, they just bring tears to your eyes. They're so amazing, for this man. One day I said, 'You know, we need to do something for Myron. Myron's not always going to be here'."
Sadly, Myron isn't getting around like he used to after suffering a stroke about a year ago, and since then has been living in a local rehabilitation center. On Tuesday a group of friends went to see Myron and presented him with a Proclamation to inform him of what they are trying to do.
"He was so thrilled to have people there. I mean, when one of our board members went there on Saturday and kind of, sort of got this started, set up, he cried because somebody had come to see him. And after they read the proclamation he was 'high fives' and 'cheers' and then fist up, you know, and big smile on his face. He was just so thrilled to see people because he is a people person."
Gibson told us the Board plans to add discussion to the agenda sometime in the future after the Board can arrange a face-to-face meeting with Alumni representatives.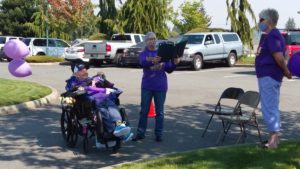 Above: Alumni President Lorri Gilchrist reads proclamation to Myron (seated)
Banner photo: Phyllis Meyer (holding sign) joins Myron