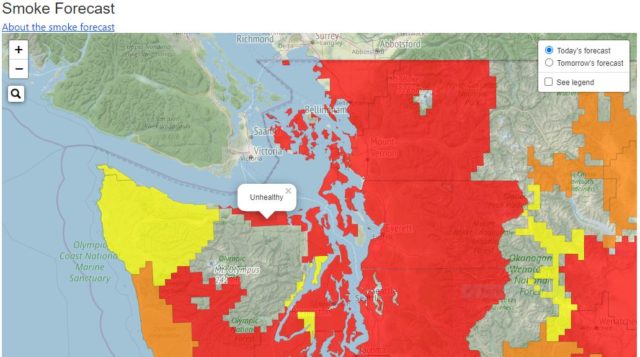 PORT ANGELES – Air quality declined overnight, got even worse by noon today, and is currently rated unhealthy to hazardous in Clallam County. Tomorrow could easily be worse. Health officials universally are telling us that inhaling wildfire smoke is not good for anyone, and especially during the pandemic.
The good news: we could see air quality slowly begin to improve on Sunday.
In the meantime, know that breathing wildfire smoke can cause symptoms that are relatively minor, such as eye, nose, and throat irritation, but there are also more dangerous symptoms like wheezing, coughing, and shortness of breath.
It's recommended that we stay indoors as much as possible and refrain from outdoor exertions until the smoke clears.
By Monday, we should be getting some significant improvement as the wind flow turns more onshore and the smoke is forced east of the mountains.
Stay up-to-date by visiting https://wasmoke.blogspot.com/