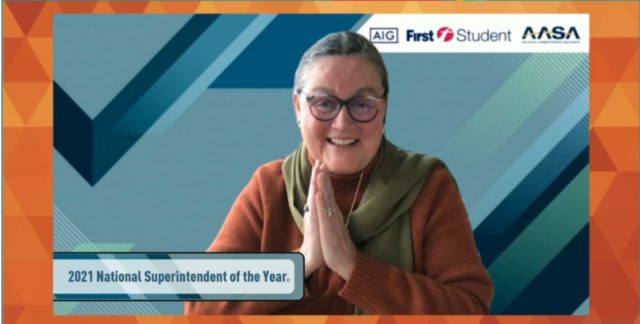 By Pepper Fisher
Former Port Angeles School District official Michelle Reid was recognized Thursday as the 2021 National Superintendent of the Year by the AASA, the leading organization of its kind in the country.
A lifelong Washington state educator, Reid has served since 2016 as superintendent of the Northshore School District in Bothell. She held the same title in the South Kitsap School District in Port Orchard for the previous three years.
Before that, Reid served as the deputy superintendent, district athletic director and high school principal in the Port Angeles School District. After winning the award, she posted a short statement on the Bothell School District website. Here's an excerpt.
"I'm really humbled by this award and, honestly, a little stunned as well, but just really appreciate the recognition for our North Shore Community. This really is a team effort and a team award. We've really put in the hard work, and as we transition into safely reopening our schools, it's my deep desire, and I know the deep desire of our staff and community, that we reopen the schools of the future and not the schools of the past."
Reid beat out 3 other finalists for the award from Chattanooga, Tennessee, Reading, Pennsylvania, and Salem, Oregon.
(AASA photo)