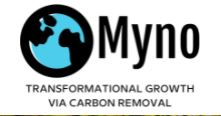 PORT ANGELES – Port Angeles may be the site of a new concept in sequestering carbon, generating energy and creating jobs.
The Myno Carbon Corporation is a startup that is looking to create biochar. Biochar is a stable, solid form of charcoal and generate electricity.
Biochar is produced by pyrolysis, that's a thermal decomposition in the absence of oxygen. Myno would primarily use forest slash, sawdust, and hog fuel as its feedstock here.  That feed supply is what made Myno's Thor Kallestad turn to developing a plant in Port Angeles.
"Port Angeles has a lot of very unique qualifications to launch a first business like this. Largely in that there's a lot of feed stock up there. And by feedstock, we're talking  slash piles out in the forest from logging operations and sawdust. It is abundant. So that really helps the the economics of the business."
Kallestad outlined the company's plans to a discussion hosted by Clallam Economic Development Corporation executive director Colleen McAleer yesterday.
The company estimates about 190-thousand dry tons of materials will be consumed each year. The pyrolytic processes will convert the feedstock into about 40-thousand tons of biochar each year, and about 75-thousand megawatts of electricity each year.  Plus, he anticipated the facility will create about 50 new jobs in Port Angeles.
"We want to sequester as much carbon as we can as fast as we can and we want to do it at capital-efficient scale. The last part of that is very important, because we want to do big projects. We know that a lot of the technologies that we're deploying are well established, but they've really only been done at small scale. One of the things that we really want to accomplish with our project in Port Angeles, is to assemble some of these very proven technologies, do them at a scale where you get economic synergies with in that ultimately becomes profitable to sequester and remove carbon. And that's one of the, that's kind of the biggest bet if you will, that we're making as a company."
Myno has started raising $100 million for this project. Kallestad says they plan to be fully self-funded but will look at some additional partners. The Myno facility will be in PA, but it is still working through the steps to settle on a final location.