The Girl Friday Show had some extra special guests today!  The new Executive Director of the Olympic Peninsula Humane Society, Jade, was in studio along with the Bark House Manager, Nicole (pictured) to talk about the huge influx of animals that OPHS has right now.  They are at crisis levels and need our help!  If you are able to donate any time, money, goods or services, or you are interested in adopting or FOSTERING an animal, please click HERE!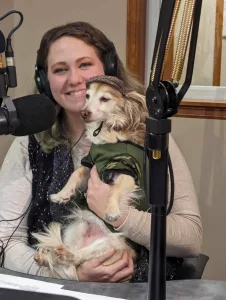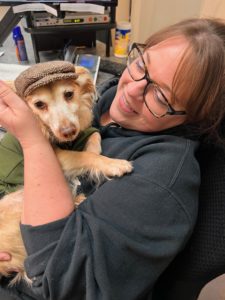 Thank you also to our show sponsor, Kokopelli Grill and Hook and Line Pub!  We just couldn't do all of this without you!  And to our other sponsor, Fogtown Coffee…well…thanks for this fun competition, "Coffee for a Cause"!
SPECIAL FOGTOWN COFFEE PROMOTION – NOW THROUGH THE END OF THE YEAR!
Steph and Amanda have each crafted a specialty drink for YOU to try at Fogtown Coffee.  When you purchase one of their drinks…Fogtown will keep track of it and at the end of the year, whoever has the "most popular" drink will WIN MONEY FOR THEIR CHARITY OF CHOICE!
Order Stephanie's Drink –  The "Tropical Sleigh Ride" – Spiced Chai Tea Oat Milk latte, with coconut and banana flavoring (Seriously…you're going to want to try it!)  Steph is "sipping" for Pet Emergency Group!
Order Amanda's Drink – "I'll be Home for Christmas" – White Chocolate Americano with Brown Sugar-Cinnamon and Shortbread with a splash of Eggnog on top. (it's like Christmas in your mouth) Amanda is "sipping" for Habitat for Humanity of Clallam County!
Whichever drink you choose, just know that this "Coffee for a Cause" is helping an incredible organization…thanks to our friends at Fogtown Coffee!
Friday, November 10 This show has gone to th...
The Girl Friday Show