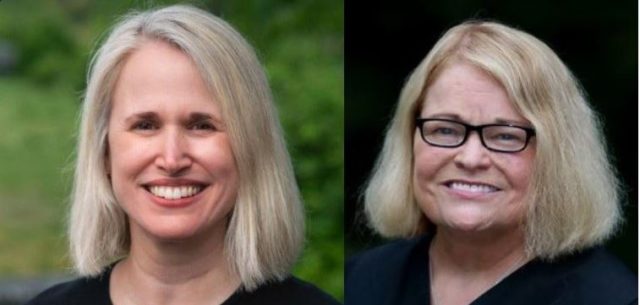 PORT ANGELES – The candidates for Clallam County Superior Court debated on the Todd Ortloff Show Wednesday.
Judge Lauren Erickson, who is seeking to retain her position on the bench, was appointed to the seat in 2019 by Governor Inslee. Before joining the Superior Court, Erickson was a practicing attorney at her own firm as well as a court commissioner and pro tem Judge for the county's District Court.
Dublin is a chief administrative law judge for the State Office of Administrative Hearings in the Tacoma division.
The candidates covered a lot of ground Wednesday, but at one point Todd asked them what skills they believe they bring to the table that their opponent does not. Judge Erickson led off.
"Well again, I've had 12 years prosecuting cases. Everything from serious assault to child sex offense cases. We are facing an unprecedented level of crime, including a triple homicide case. I have the necessary criminal law experience to handle those types of cases. Her criminal law experience is in Issaquah Municipal Court where she presided over traffic court arraignment and a two-day negligent driving jury trial. That is not very much criminal experience for the level of crime that Clallam County faces. I know she has indicated that she thinks she has practiced in the Clallam County court system because she's done three administrative hearings. I will represent to the public that the administrative hearings are not part of the judicial branch, they are part of the executive branch. Again, those are not courtrooms. And so she has not practiced in Clallam County Superior Court, and I'm not sure why she thinks there needs to be a change when she hasn't even bothered to come in and see what goes on in Clallam County Superior Court."
Here's Lisa Dublin.
"I stated at the outset that my litigation experience includes client litigation primarily for 13 years, and I practiced that in courts all over the states. I also practiced criminal defense law, I judged in Issaquah Municipal Court and King County District Court. I have conducted arraignment sentencing pre-trials and a jury trial. The criminal law also comes into play in our administrative hearings. I've held administrative hearings that have touched on sex trafficking and prostitution, money laundering, drug trafficking, these aren't 'new things'. Judge Erickson states that she has presided over all of these administrative hearings. I can tell you for a fact she has not. What I bring is not just the breadth of lawyering and judging experience that I have, but also the critical management experience that I think is so critical at this time for Clallam County Superior Court."
Photo: Lisa Dublin (left) and Judge Lauren Erickson.