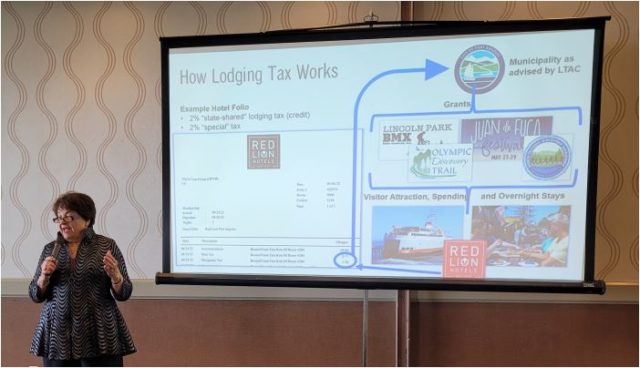 By Pepper Fisher
PORT ANGELES – The Port Angeles Chamber of Commerce hosted the Executive Director of the Olympic Peninsula Visitors Bureau at their monthly luncheon on Wednesday.
Guest Speaker Marsha Massey presented Tourism on the North Olympic Peninsula, A Look Ahead, and brought with her some encouraging news about the local tourism industry's recovery from the pandemic slump.
2019 and 2020 were understandably down in terms of tourism, but Massey showed us that Clallam County came back big in 2021 with $228 million spent by visitors.
She says about half of that was spent on lodging, which is a good thing because money spent on lodging includes lodging taxes. The lodging tax fund is used exclusively on attracting more tourists, and in 2021 Port Angeles alone brought in about $1 million.
2022 is shaping up to be an even better year on the Olympic Peninsula. Massey says, if you have guests coming to town this summer and they won't be staying with you, they need to book now. The National Park Lodges are basically sold out from Memorial Day through Labor Day. There are still a lot of other places to stay, but that starts the compression on hotel openings, and rates are going up fast.
Finally, Massey showed the guests at the luncheon a couple of the new tourism TV ads they've produced, which are being shown throughout the northwest to attract even more visitors, and here's an example.
(Watch the ad here)