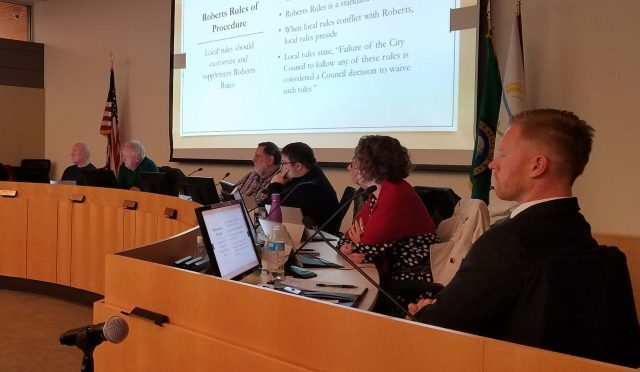 SEQUIM – The Sequim City Council Monday night reversed their previous decision to deny a developer his plan to build a 217-unit manufactured home development on Sequim-Dungeness Way.
Following a 40-minute Executive Session in the middle of their meeting, the council re-emerged and promptly voted unanimously to let the Lavender Meadows project, set on 38 acres of a former dairy farm, proceed as planned.
The most vocal of the 3 opponents of the project last month when the council voted to stop the project was councilman Ted Miller, the others being Brandon Janisse and William Armacost. Miller says his biggest problem is that the JWJ Group plans to make their streets private within the development. That, says Miller, is against City Code.
City Staff and the Planning Commission disagreed and recommended the Council approve the project.
Miller explains why he changed his mind.
"I firmly believe the City Council is right in that public roads are required. But the City Attorney had the opposite view and the only way it could be settled would be to go to court. The problem with that is, no matter who won, whether it's the City Council or the City Attorney, the taxpayers are the loser. They're going to have to pay the developer because Lavender Meadows is completely blameless in this altercation. So we were…I was sort of boxed in, and I felt that the best solution would be to try to change it proactively in the future so that we won't have any more private roads in Sequim, but not to make an issue here because the only real loser would be the taxpayers, and I'm representing them."
We asked Miller to tell us more about his plan to avoid a similar confrontation in the future.
"I anticipate having it as an agenda item in the next one or two sessions. And in the meantime, I've already talked to the City Manager about it and I believe he's already going to start work on drafting an ordinance to close any possibility of a loophole."