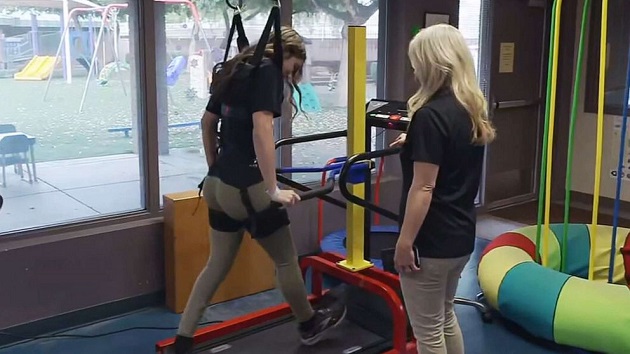 (NEW YORK) — A 16-year-old softball player with cerebral palsy has gained thousands of social media followers sharing her recovery efforts after a major leg surgery.
Throughout her life, Charlie Duffy has had over 20 surgeries to help correct pain and walking issues affecting the left side of her body — a subtype of the condition known as hemiplegic cerebral palsy.
Cerebral palsy can affect a person's ability to move and maintain balance and posture. It's the most common motor disability among children, according to the Centers for Disease Control. It's estimated that 1 in 345 children in the United States have been diagnosed with the development disorder.
"There's always that, 'What if I might not be able to walk or do things on my own?' And I kind of beat the odds," Duffy told "GMA3."
For the teen, playing softball has been a source of motivation. She said feels a "rush of adrenaline" whenever she makes a play or gets a hit.
She was in PE class one day when she noticed that her foot was turning in again as she walked, which would require another surgery to correct. In May, surgeons cut Duffy's femur in half, rotated it and secured it with a plate.
Before the surgery, Duffy's Instagram posts were about her softball workouts. Now, she needed something new to post about.
"I just posted a video of me getting out of bed after my surgery, just so people can who are following my softball journey know that softball is not the only part of my life. And that kind of blew up unexpectedly," Duffy said.
Duffy now has over 100,000 followers on Instagram, where she shares snippets of her life and recovery progress. The mental aspect has been almost hard as the physical, she said.
"You're competing with yourself and your thoughts. And I think so many people dealing with injuries don't take that into account," Duffy said.
Symptoms of cerebral palsy vary from person to person, depending on which parts of the brain have been affected, and may even change over a person's lifetime, according to the National Institute of Neurological Disorders and Stroke.
"I just hope that one person can realize they're going through this battle with a whole community rallying around them," Duffy said.
When Duffy was cleared to do certain softball-related exercises after surgery, she said she felt like her true self again. She's looking forward to getting back on the field.
"I hope to continue to grow my platform to get the word out to people. And I hope to be back playing softball soon and really doing what I love," Duffy said.
Copyright © 2023, ABC Audio. All rights reserved.