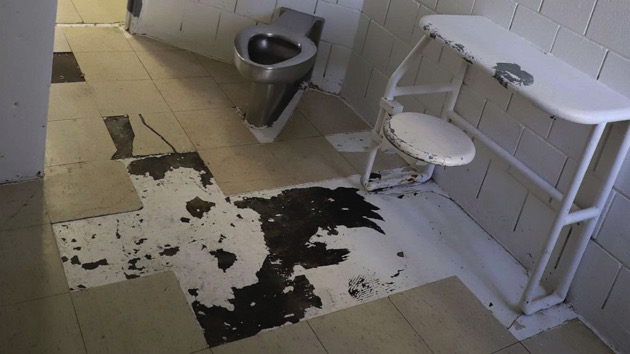 (WASHINGTON) — The 123 federal prisons in the United States need roughly $2 billion worth of "maintenance" and most are "aging and deteriorating," according to a DOJ inspector general report.
In three prisons, the conditions are so bad they had to be closed — including the Metropolitan Correctional Center (MCC) in Manhattan, which held Jeffrey Epstein prior to his death.
"We're seeing crumbling prisons," DOJ Inspector General Michael Horowitz told Chief Justice Correspondent Pierre Thomas. "We're seeing buildings that we go into that have actually holes in the ceilings in multiple places, leading to damages to kitchens, to doctor's offices to gymnasiums. And they're not being fixed."
The inspector general's investigation showed crumbling infrastructure in MCC New York, which was closed by Deputy Attorney General Lisa Monaco and currently has no reopening date.
While BOP sought $200 million for infrastructure repairs in fiscal year 2022 and was allocated just $57 million from Congress, the costs to fix all the facilities would cost closer to $2 billion, per the report released earlier this month.
"And that what we've seen is when you don't fix your infrastructure, we don't keep your building up to speed," Horowitz said. "You create safety and security issues. We've seen inmates sleeping with pipes running over their heads that leak, that aren't getting fixed."
It is not only inmates that have to deal with dilapidated infrastructure, but staff who work in the prisons have to as well.
"We've been complaining about our prison conditions for many, many years, and it's the conditions of confinement for the offenders, but it's also the working conditions that our employees work in," Shane Fausey, president of the Council of Prisons Locals, told ABC News.
Fausey, who represents over 30,000 federal corrections officers in the country, said the employees he represents go into work in tough conditions with little fanfare because they are dedicated to keeping their communities safe.
The inspector general also released three other reports detailing some of the other failures at the BOP. The Taft Correctional Institution in Taft, California was so unsafe, according to the IG, that the Justice Department had to shut down its operations. The facility was built in 1996 and had problems from its opening with unstable soil that caused cracks throughout the facility. Those cracks were so big that the sun shines through them, according to the report.
"We're seeing problems in every institution," Horowitz told ABC News. "It's a global problem. The business as usual isn't working for the BOP. They have to change that, and they have to address these very serious problems."
But BOP's problems extend beyond the dire need for physical repairs, extending to ongoing security problems that have allowed a steady stream of contraband like drugs, cell phones and weapons to enter several of the federal prisons the IG examined.
A 2021 search of a federal prison in Atlanta found 134 inmate-made weapons, marijuana, methamphetamines and enough prescription pills to fill two one-gallon bags along with 705 cell phones — some hidden in prison walls.
"I'm not just talking about guns [and] knives. You clearly want that out of the prison," Horowitz said. "But what we're seeing is tobacco, which is often a currency in the prisons. We're seeing synthetic drugs coming in. We're seeing cell phones coming in a cell phone in a prison is a deadly weapon."
Cell phones in prison have proved deadly. In 2013, inmates at a federal prison in Puerto Rico were accused of using a cell phone to orchestrate the murder of corrections officer Lt. Osvaldo Albarati. Four inmates plead guilty for their roles in the plot.
The Inspector General found that more than half of the security cameras in the Atlanta facility were inoperable or malfunctioning. At MCC, there were "serious operational issues related to…camera functionality."
In a statement to ABC News, Bureau of Prisons Director Colette Peters said she is committing to work with the IG and Government Accountability Office in the areas highlighted in the report.
"The BOP will carefully evaluate and implement any necessary corrective actions to ensure that our mission of operating safe, secure, and humane facilities continue to be fulfilled," she said. "I am confident our processes and procedures now in place will ensure future success. We continue to take concrete steps that will not only meet but exceed the expectations of our external partners, and we will utilize the data gathered from the reports to optimize the allocation of resources."
Congress has set aside over $1 billion for BOP to construct two new institutions, but the funds remain largely unspent and the projects have remained in the planning stages for over a decade. BOP has asked Congress to cancel one project and revoke funding, but that request has not been acted on.
Copyright © 2023, ABC Audio. All rights reserved.