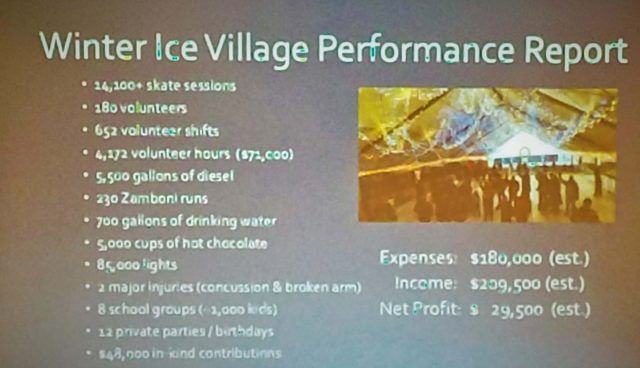 PORT ANGELES – By any measure, The Port Angeles Regional Chamber of Commerce had a banner year in 2018, so says Executive Director Mark Abshire in his report Wednesday at their monthly meeting.
Abshire began his presentation with the long list of events hosted by the Chamber in 2018, and wrapped it up with a few impressive stats. In 2016, the Chamber made a net profit from events of $18,000. In 2017, the net profit for the whole year was $2,000. 2018's net profit came in at just under $60,000, half of that from the Winter Ice Village skating rink that just finished its inaugural season downtown.
Abshire explained that while expenses for the rink were quite a bit more than expected, attendance also exceeded expectations.
He says the $30,000 profit from the skating rink will be used for next year's down-payment, assuring the crowd that the seasonal Winter Ice Village is here to stay.
Just to rattle off a few stats: the Ice Village happened thanks to the hard work of 180 volunteers who worked more than 4,000 hours combined. 5500 gallons of diesel were used. 5000 cups of hot chocolate were served, and there were 12 private parties.